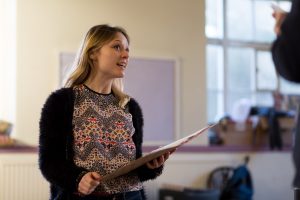 1.Tell us about your role-
Oh the lovely Jasmine! I've missed her. Jasmine is your typical moody teenager she loves her I phone and keeps her eyebrows in check. Jasmine knows best and has an attitude bigger than Eric's largest portion of cod. As gobby as Jasmine is, she's actually an intelligent sensitive soul and absolutely loves her Nan. Jasmine is feisty, funny and tells it like it is! Not like me at all….
2. What do you love about the play?  
Chip Shop Chips is marvellous and i'm not just saying that! Becky's writing is hilarious, down to earth and real. It comes from a real place and I don't know anybody that has watched the play and hasn't commented on the hilarious yet emotional journey you get taken on as an audience member. I love performing Chip Shops as it's a guaranteed belly laugh for all ages. The narrative is intergenerational and beautiful. I also love the Lancashire dialect and miss it a lot when I'm in London (I do). Did I mention I get to eat chips every night too… What's not to love!
3. Tell us your Chip Shop memory? 
I used to work in a chippy in bonnie Colne, Lancashire when I was a teenager. They served a 'mini mix box' which consisted of fish, chips, peas and gravy. I used to get it for 2 quid with staff discount – absolute barg!
4. Who was your first love?
I remember fancying a guy called Jonathon Edwards when I was in reception. I used to chase him round the playground. I don't think he fancied me.
5. Where are you most looking forward to visiting on the tour and why?
 I noticed we have a week in WAY-ELS! That'll be fun! I'm looking forward to the super rural places it will make a change from busy London. It's fun being in the middle of nowhere, pints are cheap and the sheep are nice too.
6. What's your order at the chippy?
Fish, chips, mushy peas and gravy (probably extra gravy) I like my food soggy.
Chip Shop Chips is on a national tours from the 23rd February to the 21st of April 2018 . Book tickets here.