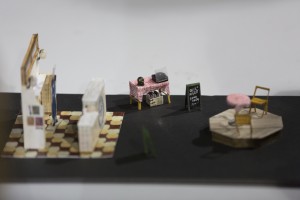 1. Tell us about your role?
My name is Katie and I am the Designer for Chip Shop Chips. My role is to create a world for the story to exist in. I am responsible for all elements of Set, Props and Costume and I work closely with the Director and fellow creatives to make the work as coherent and truthful as possible!
2. What do you love about the play?
It comes with chips and a quiz… you don't get that on the West End!
3. Tell us your Chip Shop memory?
Eating a record 4 chippy teas in two days last year during the dress rehearsals and first shows. You'd think it have put me off but I literally just polished off a chippy tea as I type…
4. Who was your first love?
David Seaman.
5. Where are you most looking forward to visiting on the tour and why?
This year I have quite a few people interested in all kinds of local venues to them, its so exciting to hear of people booking tickets for St Helens and Rochdale for a show, rather than having to travel further afield. Its one of my other favourite things about this play!
6. What's your order at the chippy?
I always go for the classic Fish and Chips, with so much salt and vinegar that people move away from me.