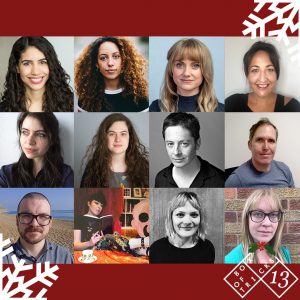 Our first Cohort of Pen Pals first met virtually in August and since then have been working hard on their plays, sharing ideas and best practice and feeding back on each other's work.
With six months to develop a full length play with support from their pal and Box of Tricks, the writers are now halfway through their exchange programme. Our Literary Associate, Al Lockhart-Morley, checked in with them and asked them to share some insight into the pieces they're developing.
Playwright: Karla Marie Sweet
Title: The Grief Exception
Jane is expecting guests. A reunion dinner, ten years after the night that changed all their lives forever. We meet a younger Jane, Jack, Tamara, Miri, Gagan, Esther, Noah and Bel on a beach as they celebrate their final day of university. It's a raucous night of fun and games until Noah makes a shocking discovery: A dead body washed to shore.
The Grief Exception follows the most significant moments of their next ten years, intercut with scenes from Jane's present day dinner party as tension builds, secrets are shared and some friendships seem beyond repair. The play asks what role privilege has in how we deal with trauma and whether any of us can ever truly recover.
Playwright: Stefanie Reynolds
Title: Hazelnut & James
Hazelnuts & James live on an estate in Manchester, with their younger brother Nathan, who is always absent, and their worn out, anxiety ridden mum. Hazelnuts is bright, inquisitive and ambitious. When she gets into university she's excited and hopeful, but all soon comes crashing down when she feels lost, and left out from her new university peers. Meanwhile, James meets Daisy, a white middle class girl who makes him feel special and loved, introduces him to places and experiences he'd never imagined. He's finally happy, and Hazelnuts is furious. He's shacked up with the type of people who've alienated and tainted her university experience.

Hazelnuts & James desperate attempts to fix their broken family, fails spectacularly. James is eager to shift his identify, ashamed of where he's from. Hazelnuts is eager to remind him. The two lock heads, but when news of Nathan's whereabouts breaks, the two come together, in the hope of saving their family.  
Playwright: Molly Sweeney
Title: Decommissioned
"You feel that? Lovely isn't it – so warm. It's weird how hot it is for May. But then that chill in the shadows? That bone chilling chill that is not like the cold wet from the sea. That chill. That's new too. That chill is from the arctic."
Playwright: Laura Homer
Title: Topia
After the chaos of the 21st Century – the riots, climate disasters, systematic injustices – male leaders pushed the world to the brink of world war three, until women had enough and stepped in. Now in a matriarchy where boys are imprisoned lest they endanger society again, James' family is torn: his sister campaigns to free the boys; his Mum supports Androcide, and James? He just wants to know if he can be a good person, when he's been taught that his gender pre-disposes him to violence.
Playwright: Josie Cerise
Title: Chicken Limbo
Rob, Jules, Ed, Zoe and Johnny grew up together, like Dawson's Creek but in Chorley. It was glorious, full of snogging, mosh pits and adventures. But now they are 30 something and marriage, mortgages and babies seem to be the only thing on the agenda. This New Year's Eve they decide to take a trip away together, one year after the worst night of their lives. The clock ticks towards midnight as the events of that night are exposed and secrets revealed. Can they make sense of the traumatic events and move forward together? Or will they stay in limbo?
Playwright: Francesca Waite
Title: Blastocyst
Jodie has always wanted a baby, but her time is running out. Blastocyst is a funny and honest play about becoming a solo mother by choice. It's a story of choices, when you know you have no choice at all.
Playwright: Steve Timms
Title: Trash Swim
It's about a shamed former swimming champion, looking to redeem himself by auditioning for a role in an anti-pollution advert, which involves swimming through miles of plastic in a film studio tank. However, this new sense of purpose isn't enough to keep his PTSD flashbacks at bay, and ultimately he is forced to face memories he is terrified will destroy him.
Playwright: Nick Kirby
Title: Fags and Booze
It's about a year in the life of a bunch of gay men who meet at an alcohol support group. That might sound grim, but it's shot through with dark humour. And explores themes such as sex and sobriety, the lies we tell ourselves (and others), and how alcohol can mask (in good ways and bad) who we really are.
Playwright: Clare McNulty
CU Next Tuesday
A script that explores ingrained misogyny in common parlance and offers honest examples of empowerment in embracing taboos thrust upon us in society. Moving through conditioning, language, faith, fetish and subcultures, this work is challenging us to sit with our shadow selves and fantasies for true insight into who we really are and what we secretly seek to soothe us.
Playwright: Kat Boon
Title: Tender
Across a decade in a UK care home, four care workers battle through the joys and the trials of caring for strangers, of connecting to each other and attempting to heal themselves within an industry that tries to stop them. A love story and tribute to the tender act of care within a scathing exposure of the UK care industry, Tender asks how do you care for yourself and for others in a system that does not care about you?
Playwright: Rachel Price
Title: Mill Girl
It's the noughties and there's a trendy New party shaping a modern kind of Britain. Then there's Scancliffe where the beer's still cheap but the jobs went with the mill long ago, and the residents ask, When did a home become an asset?
Pen Pals will return in 2021! For more information and for updates, check out https://boxoftrickstheatre.co.uk/playwrights/playmakers/pen-pals/