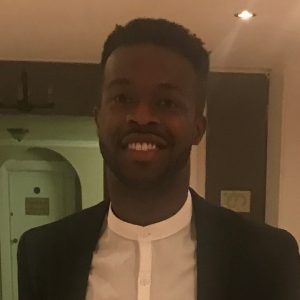 'My Voice Was Heard But It Was Ignored' by Nana-Kofi Kufuor
PlayBox playwright Nana-Kofi Kufuor reflects on the first stages of writing his new play ahead of its rehearsed reading as part of Push 2020 PlayBox Takeover at HOME on 18 January.
This opportunity arose through someone sending me an email saying a company called Box of Tricks is looking for new writers at the early stage of their careers. To say I was at the early stage of my playwriting career was an understatement. I had actually only written two plays at university while studying on a Film and Television production degree, where wasn't a lot of importance put upon writing for theatre. I had only earlier in 2018 ever seen playwriting as a viable medium when I was invited to join a writing group at The Royal Exchange Theatre which was literally my introduction to theatre.
When Hannah [Tyrrell-Pinder, joint Artistic Director] asked to me to meet her after I sent her some of my work, I was so nervous. I had never met anyone at that point interested in meeting me about my work. It was a weird sort of apprehension – like a new type of anxiety, because it's almost like, is this person meeting me to be nice? Are they really interested in my work? Is my work any good?
I arrived at the meeting early as I was very nervous; I sat in the library in Manchester, got myself a drink and waited. Hannah arrived and gave me a massive hug which calmed me. She told me she really liked the short films and feature length script I sent her and asked me about me, which took me aback slightly. I learnt from that moment that people who want to read your writing are really reading you. They want to know who you are and what makes you different, what makes you tick; in effect, what makes you special. After the chat I felt it went very well but Hannah told me there were ten other writers in the running. I thought I did not get this, but on to the next opportunity. This was actually my first one anyway.
When I checked my email a week or two later there was the email from Box of Tricks inviting me to be part of their PlayBox writing scheme. Regardless of having a BA (Hons) degree in Film and Television production and an MA in Screenwriting, that was the moment where I thought: I can do this. I can really become a writer.
My first meeting with Adam [Quayle, joint Artistic Director] was to discuss what I wanted to work on. I already had a play which was effectively finished which he really liked. I pushed him to let me work on that play, but he wanted us to work on something fresh together, for it to be an entirely new experience. I came to the next meeting with four ideas – two were viable, the other two were a little left field, but the two he and Max [Emmerson, Associate Producer] liked most were the ones closest to my personal experiences. At that meeting we agreed we would focus on the play about a teacher who sees something and the next day is approached by a student and quizzed. The first idea I had for this play was that a teacher sees a student dealing drugs; she tells the police and the next day he finds out, and with some of his friends, he goes to confront her.
Adam felt like the story should really be about two people; I did not and I kept attempting drafts where it was a group story. Adam felt like it convoluted the story, and that it took away from the moments of breakthrough if those moments were shared between a cast of 7 or 8. To negate this on the next draft I cut it down to 5 and added an element of roleplay so I could in theory have a cast of 15. I feel Adam saw through this naïve attempt, but he did like the roleplay aspect.
For the next draft, I came up with a different approach: instead of having a cast of 5 on stage I cut it down to a cast of 4 and had voice overs and roleplay. Once this draft was done, we both realised the story was only about two people.  Gill the teacher and Reece the student. Adam suggested getting rid of the voiceovers entirely. I was hesitant at first because a) I didn't come up with it and as a writer an ego comes part and parcel and b) I write a lot of dialogue for my characters (accidental exposition, it happens to the best of us!). But for the next draft I listened to Adam and got rid of almost all the voiceovers.
Throughout the script development process, Box of Tricks would take us to shows in Manchester and always ask if there was any theatre we wanted to see as they would arrange for us to go and watch it. They were only ever a phone call away and would always email you back or call back. Max is a phenomenal resource and is plugged into the Manchester theatre scene like Neo into the Matrix, and is always more than willing to help you with anything and find more opportunities.
This experience has been one that I will never forget, and I've come out with a very strong play that I can show to other companies and people. And I have a show on at HOME; if you would have told me in 2018, with no theatre experience before ever, that at the start of 2020 in January I would have a play on at HOME, I would have said "probs, I'm talented…" (I jest!). There are not enough words in the English dictionary for me to express my gratitude to Adam and Hannah for giving me this opportunity and platform. I hope this is the first of many and that one day, I can repay them in kind.
– Nana-Kofi Kufuor
PlayBox is a year-long writer-on-attachment programme with Box of Tricks offering bespoke residencies and support to three early career North West playwrights. 
On Saturday 18 January 2020, Box of Tricks launches a day-long takeover of HOME's PUSH Festival 2020 to showcase new plays from our current PlayBox playwrights and connect with local writers and theatremakers. Come join us!