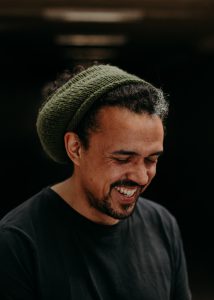 Kicking off our 2021 Advent Calendar, we sat down with Associate Artist, Lee Affen, to find out all about his work, his practice, and what's coming up as he spends the next twelve months as a supported artist with Box of Tricks.
What's your relationship with Box of Tricks. Have you worked with them before or seen their work?
My relationship with Box of Tricks is very new and I'm so excited to be one of their new Associate Artists. I've known about the company for a long time though. When I was living in Lancaster their show Chip Shop Chips came to town, I was away when it was on but I heard great things about it! I'm delighted to be part of the team now.
Describe your practice.
I'm a composer, sound designer, and sound artist working in theatre, film and dance. My practice as a creative team member is highly collaborative. I usually work 'in the room' which enables discussion on sound and music with the company and gives me a deeper connection to a piece. I'm really open in that way and I always prefer a process that welcomes creative expression and discussion. I find this ensures everyone's voice is in all parts of the work which feels truly collaborative and creates a much more cohesive piece.
I would describe my work as painting pictures with sound. In theatre I generally look for the subtext as there's no point in painting the same picture that the writing and the actor are portraying. That opens up many more creative options. The same works with film too, and in live performance this concept can be further manipulated, for example looking at the physical placement of sound in a space and in relation to the audience.
I really love working with dance and that's what got me into theatre. Working with dancers feels like jamming with musicians. There's an amazing synergy between the two artforms and when you're in the room together there's a real sense of pushing each other on to try something new and exciting in the moment.  Let's be honest, as a musician, all you want to do is jam really so it's a perfect fit!
What excites you most about working in the creative industries?
Exploration, subversion, playing without limits, collaboration and the challenge of it are things that excite me the most. Also working with stories that resonate with people, exploring a creative response to these stories is so great to play with and collaborate on. There's no one way of doing any of this. You could give 50 artists the same brief or stimulus and you'd get 50 different responses, which is what makes art and creativity so captivating.
I really love the challenge of starting with an idea, not knowing what the final piece will sound or look like, then seeing it through to a full production where worlds have been created. How we pass that challenge on to an audience is also key for me. I don't want everything to be answered in a piece that I watch or work on. Having ideas percolating and popping up in your head long after experiencing a piece is something the creative industries, particularly live performance, can do really well.
Finally, working with some amazing artists. Being in a room with a buzzy company is the best feeling!!
What do you think needs to change about the industry?
I'm from a working-class background and I'm mixed race. There are systemic challenges and inequalities throughout society for people like me and, of course, this is carried through to our industry. I love my job but it was never presented to me as an option when I was growing up. I didn't know there was such a thing as a 'sound designer', let alone how to get to be one.
Financial barriers need to be broken down so that young people with a passion for sound and music from less well-off backgrounds can access training and then get into rooms where creative decisions are made and not feel intimidated by the language or ego.
There is a wealth of creative talent out there that would hugely benefit British Theatre and the door needs to be open for these people. We're beyond the time for tokenism. Valuable voices are not being heard and this needs to change. We need proper diversity in the industry and the conditions need to be created for it to flourish. The recent pandemic was a time for the industry to re-evaluate things like this and I worry that this will fall by the wayside.
Representation is key and the Associate Artist scheme that Box of Tricks has created is a major step in the right direction as it promotes the creative roles that are not usually shouted about. We're all creative thinkers and makers and decision makers and this needs to be celebrated and credited.
What advice would you give to others starting out in your field?
I've learnt a lot along the way and am still learning, that will never change. A few bits of advice I would give as an artist are to see, hear and experience as much art as you can across multiple genres and disciplines. Don't limit your view or horizon as there's so much that influences us. Collaborate with many different people who are skilled in different artforms. Don't be afraid to ask questions and listen to yourself too.
With my music hat on I would say, practice your instruments and if you don't play, get a little recording device and record environmental sounds. Sound roots us and atmospheres and ambiences are always needed in the sound design world. Above all, enjoy your own sonic signature. Be open to new ideas and influences and be true to yourself.
No matter what you do, you're in a sonic landscape… Enjoy listening!
What projects have you got lined up and what are you getting excited about in the next 12 months.
I'm an associate artist with the fabulous Imagine If Theatre and I've just done the music for the film My Old Man which is out on tour. It's part film, part theatre which is a really exciting format.
I am a company member of The Bare Project and since 2019 we've been developing a big project called The People's Palace of Possibility. It's immersive theatre, meets installation, meets community hub, where the audience/participants are Palace Citizens who get to imagine, discuss and explore their own Utopias and visions for the future. It's such a cool project and feels very right for now.
I'm also working on a co-production with The Theatre Centre and Sheffield Theatres on a piece called Human Nurture. The Theatre Centre is a company and that I've not worked with before and I'm really excited to see what comes out.
Then I'll be working on the re-mount of Fargone with Roots Mbili Theatre and Sheffield Theatres. I'm really excited about this as it's a show that was paused at the start of COVID and it's great to pick it back up. It's about child soldiers in Uganda. Proper hard hitting and such a tough subject to tackle but this is what theatre does really well.
There are a couple of other projects that are yet to be announced for 2022 but I'll definitely be shouting about them when the time comes!
Lastly, I'm super excited to continue my relationship with Box of Tricks and I can't wait to see what 2022 brings!!
~ Lee Affen, Associate Artist