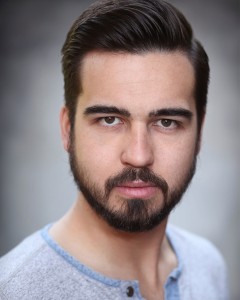 1. Tell us a little bit about your character/role
Kenny is a quick-witted, intuitive and secretly sensitive London lad whose early life has caused him to avoid, initially, connecting deeply with the people around him. His emotional intelligence, alongside a dry sense of humour, though, allow a strong empathetic connection with Jim, with whom his life and experiences intertwine.
2. What attracted you to this play?
We very often hear of the grand heroism and epic, romanticised struggles of larger groups of soldiers, sailors or airmen during any period of war, and while these are absolutely essential and a huge part of the way we remember and honour the sacrifices of those forces, it's incredibly refreshing and so important when a writer addresses the experiences of a single person playing a tiny part in the larger story (but whom represents so many) – especially when it's so beautifully, eloquently written.
Lizzie has created a world that is becoming increasingly distant from us that deals with  love, loss, guilt and betrayal in a way that is entirely relateable.
It's a period of history that has always fascinated me, since hearing stories from my grandparents about their experiences during the war, some actually in the Royal Navy.
From an actor's perspective, the claustraphobic closeness and smallness required is something I'm looking forward to exploring. Telling the story of one man's memories (inspired by actual events) is a real honour, and the challenge of respecting those experiences whilst weaving the theatrical narrative is one I relish.
3. If there was one memory you would like to hold onto, what would it be and why?
I was really lucky to be able to travel quite a lot as a kid, and quite a few of those experiences are starting to fade out of my memory – so I'd definitely like to at least be reminded by visiting all those lovely places again!
4. If you were a sailor which port would you most like to visit?
I'm definitely a lover of the warmer weather, so perhaps the old carribbean pirate ports like Tortuga and Barbados would be the ideal spots. I've actually also always loved the idea of sailing into New York or London back in the days of tallships and sails – theres something magical about anything awe inspiring the first time you visit.
5. What are you looking forward to most about this production?
Navigating through the interconnected stories will be a fascinating task, and really getting to grips with the history and what the reality was of serving on a ship during the Second World War.
6. Which song would you sing to get you through the rough seas?
I've had 'The British Grenadiers' march in my head for a while – it's rowsing and patriotic so that might be the first one that springs to mind!
NARVIK runs at Liverpool Playhouse Studio 8th September- 19th September. Book tickets here