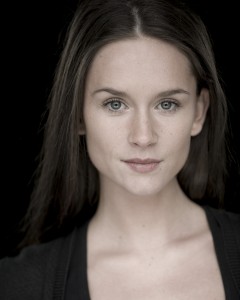 1. Tell us a little bit about your character/role?
Else is a history teacher from Oslo who lives by herself in her attic room outside of town. She's a free spirit and anything unusual or different from what she´s used to attracts her. Thats why she gets drawn to Jim. She's playful and comes across as an extrovert, however I think she´s a thinker and keeps a lot to herself. Which can be surprising to others. I would say she's one of those people you can never really figure out. A loose canon.
I am also playing the character of Lucya who is quite the opposite of Else. She's a Russian lady who comes across as very confident and quite arrogant. She's a very flirtatious type and quickly finds out that the British guys are all madmen…
2.What attracted you to this play?
My first time reading the play I got drawn in by the atmosphere of the piece. How Lizzie incorporates music and song into a straight play and how it is still naturalistic even though most of it is Jim's illusions and memories. Else attracted me because of her unpredictability and freedom. Reading it I thought: 'She's a character I´d like to portray'.
3.If there was one memory you would like to hold onto, what would it be and why?
Seeing the development of the piece from start to finish and the satisfaction it gives you in the end. It's like growing a baby.
4.If you were a sailor which port would you most like to visit?
All the ports there are!!!
5. What are you looking forward to most about this production?
Rehearsals. Working with talented people with an amazing piece of writing.
6.Which song would you sing to get you through the rough seas?
"Dontworryyouwontdieyetitsonlywaterandyoureagreatswimmer" by Nina Yndis aka Improv.
NARVIK runs at Liverpool Playhouse Studio 8th September- 19th September. Book tickets here