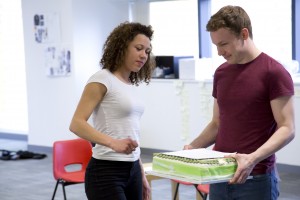 Tell us a little bit about your character/ role?

My name is Katie, I am the designer for Plastic Figurines. My role is to work closely with Adam (director) and the rest of the creative team to create the world that Ella has scripted. I try to remain as sensitive to the script as possible, and create a set and costume design that is actor friendly and supports the narrative on stage.

What drew you to this play?
I really love how much I keep finding every time I read it, its full of subtlety and is a very heartwarming, funny, exploration of love and loss. I think we have all found aspects of the script that we can relate to in our creative exploration of this script, we quite often swapped stories that related to the script over a cup of tea in meetings, and that for me is when the work becomes the most sensitive and understood. I know the audience will find something of themselves or their own life in there too. I love new writing, I love that it tackles situations that occur in our everyday lives and perhaps shed a light on a situation we have over looked or ignored slightly.
What is your favourite chocolate bar?
Double Decker. Didn't even have to think about it.
What are you looking forward to most/ least about being on tour?
I hope that the set sits comfortably in every space, not just in physical terms but it is designed to have its own presence, it should feel very contained and claustrophobic, I hope I have still achieved this even for the bigger venues. I also wanted to try and drive a wedge between the actors, again I really want this to come across in every venue. We've got a few tricks up our sleeve that I am excited to see in real life!
Who is your favourite Teenage Mutant Ninja Turtle?
My brother was the big Ninja Turtle fan, I'll go with Michelangelo after the artist.
The national tour of Plastic Figurines opens at the Liverpool Playhouse Studio on the 8th of April before heading on to: New Diorama, London; The Old Town Hall, Hemel Hempstead; The Met, Bury; Hull Truck; Square Chapel Centre for the Arts, Halifax; The Atkinson, Southport; Whitby Hall, Ellesmere Port; The Mill at the Pier, Wigan; The Civic, Barnsley; Harrogate Studio Theatre; The Lowry, Salford Quays; Derby Theatre; Theatre Severn, Shrewsbury; Clwyd Theatr Cymru, Mold.