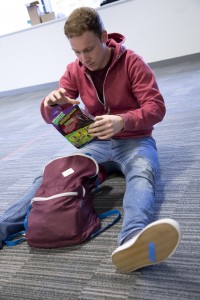 Tell us a little bit about your character/ role?
I'm playing Michael. He is Rose's younger brother. Michael has Autism. Although he often struggles with communication, he is very observant and questions things a lot. He becomes frustrated easily and so his relationship with Rose can be difficult. They are both dealing with the loss of their mother in very different ways. The way their relationship develops throughout the play is very moving.
What drew you to this play?
It has a lot of heart and is very honest and human. Those are the stories that I'm drawn to as an Actor. There's a lot of humour in there too. It's very funny at times. I think that helps when telling a story that contains sadness.
What is your favourite chocolate bar?
I like dark chocolate usually. An old fashioned bar of Bourneville is always welcome.
What are you looking forward to most/ least about being on tour?
I'm most looking forward to seeing the different venues/parts of the country that I've never been to before. I like wandering around unknown places and discovering the interesting places to go. I'm least looking forward to being away from my pets. I have 2 kittens (brothers) Eric & George. They're 11 months old. They make me laugh a lot.
Who is your favourite Teenage Mutant Ninja Turtle?
Definitely Michelangelo. He was the most fun out of the group. I'd bet he was most people's favourite.
The national tour of Plastic Figurines opens at the Liverpool Playhouse Studio on the 8th of April before heading on to: New Diorama, London; The Old Town Hall, Hemel Hempstead; The Met, Bury; Hull Truck; Square Chapel Centre for the Arts, Halifax; The Atkinson, Southport; Whitby Hall, Ellesmere Port; The Mill at the Pier, Wigan; The Civic, Barnsley; Harrogate Studio Theatre; The Lowry, Salford Quays; Derby Theatre; Theatre Severn, Shrewsbury; Clwyd Theatr Cymru, Mold.