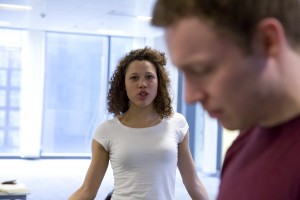 1. Tell us a little bit about your character/ role?
Rose, is Michael's older sister and has just come back to Manchester after studying and living away in Edinburgh. The main reason she has returned is because mum has suddenly fallen ill, and as her brother is autistic the support is picked up by Rose. This is something she willingly steps in to and tries her hardest to be the best sister and daughter she can, however it's not always easy. Rose is a very strong young woman, who has faced and continues to battle with big changes in her life.
2. What drew you to this play?
Plastic Figurines is a beautiful piece, there is a real rhythm to Ella's writing which I enjoy. It's naturalistic in style, yet interwoven with elements of past and memory making it feel almost dream like. Michael and Rose's relationship is a really honest and heart-warming one, they love each other dearly but in turn of course wind each other up too. The humour in the piece is spot on and come at points which aren't always the easiest to cope with. This play is a slice of life, and explores issues we all could and may have gone through. A story of family, love, fear and loss.
3. What is your favourite chocolate bar?
Tricky…I'm going to say a Milkybar. Always a close call between that and a Fudge, mmm.
4. What are you looking forward to most/ least about being on tour?
Travelling is always a pleasure, I really enjoy being in new places. Tour can very fun to find new haunts, perform in a new venue, meet new people and get to know your cast and crew better (which tour provides a whole new level of – can be good and bad ha). It is definitely hard work, but you always come away with so many memories which is great.
5. Who is your favourite Teenage Mutant Ninja Turtle?
Got to be Raphael! My older cousins and me used to watch it loads, he was always the moody strong one.Very cool.
The national tour of Plastic Figurines opens at the Liverpool Playhouse Studio on the 8th of April before heading on to: New Diorama, London; The Old Town Hall, Hemel Hempstead; The Met, Bury; Hull Truck; Square Chapel Centre for the Arts, Halifax; The Atkinson, Southport; Whitby Hall, Ellesmere Port; The Mill at the Pier, Wigan; The Civic, Barnsley; Harrogate Studio Theatre; The Lowry, Salford Quays; Derby Theatre; Theatre Severn, Shrewsbury; Clwyd Theatr Cymru, Mold.