Take Back Manchester
Tier 3: A rapid response box of takes
– Friday 23 October 2020
"You can't keep a good Manc down"
As Manchester heads into Tier 3 lockdown, local theatre companies Box of Tricks and Take Back are joining forces for the first time to create an online collaboration of short creative responses from our community.
Inspired by Andy Burnham's fight for justice, we've asked writer-performers from across Greater Manchester to respond to this week's news and kick-start a conversation as the region heads into a Tier 3 lockdown. Watch this space and follow #TakeBackManchester as each unfiltered, rapid response emerges white hot from our creative fires.
In the absence of a real-life audience, we'd love to hear what you've got to say. Share, comment, get involved. If you want to add your voice, send us a short piece – whether it be video, audio, text (up to 1 min) – to takebacktheatre@hotmail.com. We'll be sharing some of our favourites over the next few weeks as lockdown begins to bite.
#TakeBackManchester
≡ Click on the Playlist icon (top right of video) to select which response you want to watch.
Supported by Box of Tricks' PlayMakers Fund and Take Back Theatre
---
PlayMakers Fund
Our theatre community has been devastated by Covid-19 and freelance artists have been amongst the hardest hit. If you're in a position to support us, please consider making a donation to our PlayMakers Fund today. Your kindness will be paid forward as we seek to keep the heart of our industry beating at this time of unprecedented crisis.
Tweet
Creative Team:
Writers: Josie Cerise, Cathy Crabb, Billie Collins, Adam Fenton, Danielle Henry, Chris Hoyle, Zoe Iqbal, Reuben Johnson, David Judge, Anita Pandolfo, Stefanie Reynolds, Joshua Val Martin Creative Team: Grant Archer, Becx Harrison, Julie Hesmondhalgh, Adam Quayle and Hannah Tyrrell-Pinder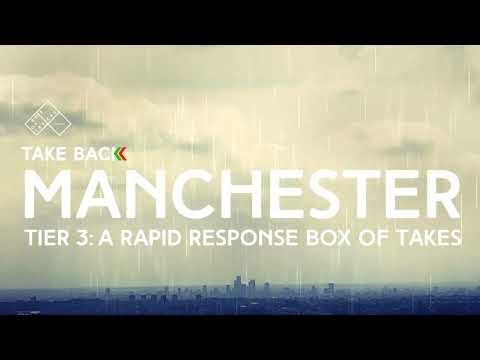 Video Gallery