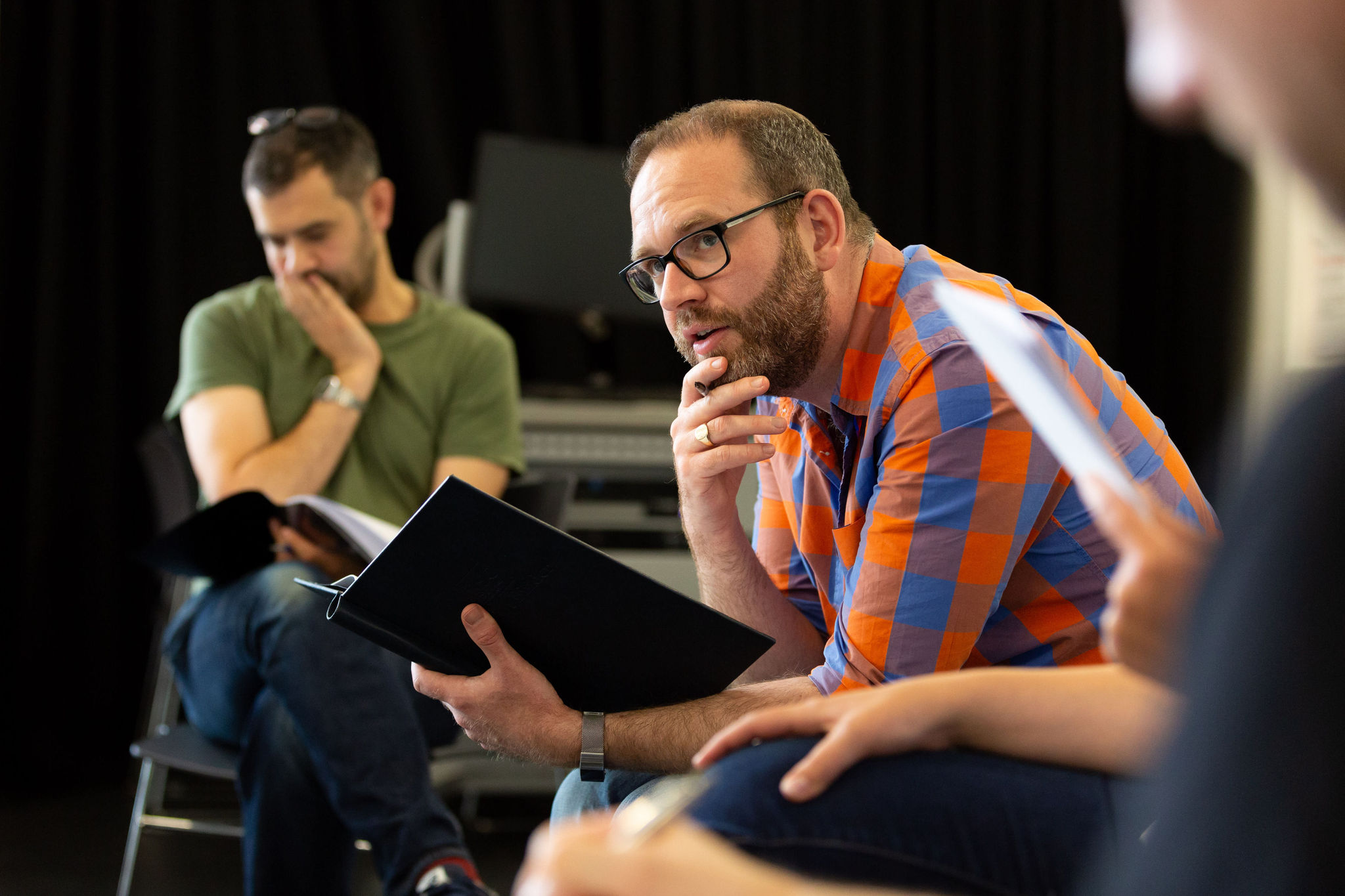 As part of our #MerryTricksmas Advent celebration, we revisit our interview with The Stage about running a theatre company outside of London…
This article first appeared in The Stage on 13 September 2019.
Director and Box of Tricks co-founder Adam Quayle tells Fergus Morgan about leaving London for Manchester, looking to its next chapter and the company's new show Under Three Moons

Seven years ago, Adam Quayle and Hannah Tyrrell-Pinder, co-founders and joint artistic directors of new writing theatre company Box of Tricks, decided to move to Manchester, leaving London – their company's home for six years – behind. Relocating, Quayle says, "is the best thing we ever did".
He continues: "We felt like we'd reached a glass ceiling with the company in the capital. It's notoriously difficult to run a company in London, to try and find funding, to set yourself apart from all the competition. We felt like we couldn't make a step up without a generous benefactor or cash injection, so we started to look seriously at our options beyond the M25."
Born in 1982, Quayle grew up in south Manchester and "kind of fell into theatre" as a teenager. He got involved in the drama society at Hull University, initially "just for social reasons" but then increasingly seriously. A year-long directing course at Mountview Academy followed, and it was there that he met Tyrrell-Pinder – the pair are partners both personally and professionally.
"Not long after leaving Mountview, we decided to set up a company, initially as a means to an end because we wouldn't get any work otherwise," he says. "Quite quickly, we fell in love with the autonomy of making our own work, of making things happen ourselves. We made a lot of mistakes, but we also learned a lot along the way."
That company has formed the backbone of Quayle and Tyrrell-Pinder's careers ever since. Always focusing on new writing – something Quayle "fell in love with" during his year at Mountview – Box of Tricks spent the next six years putting on plays on the London fringe at venues including the White Bear Theatre, Union Theatre and Theatre503. He championed the early work of writers such as Elinor Cook, Kenneth Emson and Anna Jordan.
In 2012, though, it was time for a change. London had become "prohibitively expensive", says Quayle, "and towards the end we felt as though we were making work in order to emulate other people's successes, and not following our own instincts but trying to do something cool and edgy that didn't really resonate with our own artistic ambitions."
Quayle and Tyrrell-Pinder shifted the company from London to Quayle's hometown of Manchester, and found it not just liberated them financially, but also creatively. "As soon as you get out of that headspace, it's incredibly freeing, because you can pursue the stories you want to tell and the work that excites you."
It was a really exciting time, he says. "The Library Theatre and Cornerhouse were just about to become Home, the BBC had not long moved up, there was a burgeoning fringe scene that hadn't been there when I was younger. It just felt like a good time. It felt like running a company in Manchester was becoming a viable option."
Continues…
---
Q&A Adam Quayle

What was your first professional theatre job?
Assistant director on Translations and Ghosts of Scrooge at Library Theatre, Manchester (2004).
What was your first non-theatre job?
Stacking shelves at Sainsbury's.
What's your next job?
Directing a new indie musical – How Soon Is Now? by Siân Owen. It'll be my first time directing a musical.
What do you wish someone had told you when you were starting out?
Trust your instincts. Don't get sucked into the zeitgeist. Tell the stories you want to tell.
Who or what was your biggest influence?
I was lucky enough to assist Roger Haines before I trained. He's a brilliant director – generous, intelligent, collaborative, playful – and knows how to command a room with love and passion. I learned so much watching him at play and his approach is a big influence to this day.
If you hadn't been a director, what would you have been?
No idea. I like cooking, so maybe something to do with that.
Do you have any theatrical superstitions or rituals?
Not really. I'm not a superstitious type. Although I do like all the old ones: whistling on stage, Macbeth, mirrors, and their origins.
---
Box of Tricks transformed from a company that produced short runs of new plays in London fringe theatres, into a commissioning company that toured work across the North West. In recent years, Quayle and Tyrrell-Pinder have worked with playwrights including Tom Morton-Smith, Lizzie Nunnery and Becky Prestwich, taking their work from Manchester to Keswick, Liverpool, Wigan and beyond.
"Touring has become the bread and butter of what we do," says Quayle. "We're not just putting work on for three or four weeks in London, we're taking work all over the country and striking it up with audiences nationwide."
Box of Tricks now puts an emphasis on building long-term relationships with writers over years – nurturing them from emerging artists to fully fledged playwrights. The company runs two programmes: PlayBox, a scheme for early career writers from the North West, and New Tricks, a scheme for developing work from established writers from seed to stage.
Box of Tricks' latest production – Under Three Moons by Daniel Kanaber – is born of just such a relationship. Quayle directed Kanaber's first ever play in 2007, then toured another in 2011. "The time was right for us to commission Under Three Moons through New Tricks," Quayle says.
The play, which starts a national tour in Salford on September 24, is a time-hopping two-hander about masculinity. It follows the same two men on three nights across three decades, tracking them from teenage friends on a school trip to France, to 20-somethings in a Cornish surf shack and finally 30-somethings struggling with fatherhood.
"It's about how men relate to one other, and how they talk to each other but don't talk to each other, and how men can achieve any kid of intimacy within their friendships," says Quayle. "Dan and I are excited about exploring that side of relationships, the unspoken side rather than the more bombastic, boisterous side."
Box of Tricks is now firmly established in its Manchester home, and Quayle is looking to the next chapter. At present, the company is project-funded, but Quayle is keen to expand.
"We're a small team at the moment and we're actually a man down because Hannah is on maternity leave," he says. "One of our missions over the next year or two is to get more core funding to support the work we do with writers and the overheads of running the company. We're aware that as we become more ambitious with our productions, our team needs to expand as well."
That expansion, Quayle says, just wouldn't have been possible in London. Moving "completely changed how we saw the company and its place in the world. Since we got outside the M25, we really feel like we can reach our potential and fulfil the ambitions we have for the company".