Plastic Figurines
A new play by Ella Carmen Greenhill
27 September – 22 October 2016
"Mum told me that there was something in his brain that was different, she said that he liked to put his toys in lines and that was a symptom or whatever. I used to go in his room and see all his stuffed animals in a line and I'd mess them up. I'd mess the line up."
Rose loves her brother Mikey. Mikey loves Rose, Bruce Willis films and the Teenage Mutant Ninja Turtles but he hates change. When their mum is diagnosed with leukaemia, their world is plunged into chaos. Rose returns home to find a very different brother to when she left. But today is his eighteenth birthday and Rose wants everything to be perfect but life with Mikey isn't ever that simple.
Inspired by events in the playwright's own life, Plastic Figurines is a funny and moving new play that explores autism and the relationship between siblings with very different views of the world.
Following a hugely successful national tour last year, Plastic Figurines is transferring to the New Diorama Theatre in London for a four-week run this Autumn. Award-winning writer Ella Carmen Greenhill writes for Coronation Street and is one of Theatre503's 503Five resident playwrights following writer-on-attachment placements at Paines Plough and Liverpool Everyman & Playhouse.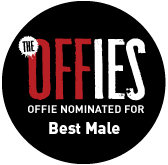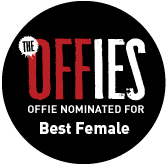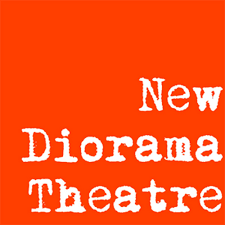 Supported by:




---
Open Access: Box of Tricks is committed to making theatre as accessible as possible. For details of a Relaxed Performance, Captioned Performance and Parent & Baby Performance for Plastic Figurines click here.
Tweet
"This short, sweet, painful play by Ella Carmen Greenhill is written from the heart and the gut. A tough, tender portrayal of the relationship between a young woman and her brother, who has autism, it draws on Greenhill's family experiences... Its clear-eyed, unflinching honesty, humour and courage make it poignant, even humbling, to watch. And Adam Quayle's production, with delicate performances from Vanessa Schofield and Jamie Samuel, is gently harrowing... A mighty miniature."

★★★★ The Times
"A quietly courageous play about autism... Adam Quayle's production for Box of Tricks has a tempo and delicacy to match the writing... It's only a small play, but its fleeting 70 minutes leave you with the sense of having stumbled across something quietly courageous and personal."

★★★★ The Guardian
"A tender, nuanced piece of new writing exploring autism and the bond between siblings... There is depth and delicacy to the writing, and humour too... Adam Quayle's confident, contained production is full of quietly moving moments."

★★★★ The Stage
"Vanessa Schofield juggles dedication, frustration and tolerance in a beautifully judged portrayal of Rose... Jamie Samuel's carefully nuanced performance... Considerable appeal."

★★★★ Reviews Hub
"Compelling... remarkable piece of theatre. Such an incredible range of human emotion is experienced in just one act. One of those little shows that punches above its weight."

★★★★★ London Theatre 1
"Samuel is beyond excellent in his portrayal of young Michael... Amazing actors... Plastic Figurines is a fantastic performance that will tenderly tug at your heartstrings."

★★★★ The Upcoming
"An excellent character based play that deserves real recognition."

★★★★★ Live Theatre UK
"A personal play – one that couples a sensitivity to the the subject matter with the capacity to look at the unvarnished truth... An arresting tale of emotional hardship and familial love."

★★★★ Female Arts
"Jamie Samuel gives an outstanding performance as Michael... Plastic Figurines is both revealing and moving and touched with humour. It helps you understand something of autism and the problems it raises... Honest and truthful."

British Theatre Guide
"A delight... Seventy minutes of pure dramatic magic... Vanessa Schofield as Rose is hypnotising... Jamie Samuel as Mikey is spellbinding... Plastic Figurines is a funny and moving new play and an absolute must see."

★★★★ Everything Theatre
"Brutally honest and painfully realistic... Vanessa Schofield is excellent as Rose... A stand-out performance from Jamie Samuel as Mikey, an 18-year-old with autism... You'll walk away feeling like you want to run to your loved ones and grip them tightly, having been reminded to appreciate the ones you hold dear."

★★★★ West End Wilma
"An affecting and refreshingly direct addition to the capital's theatre offering... Samuel presents a masterful character study... An astonishing piece of new writing exuberantly brought to life by a talented cast."

A Younger Theatre
"Plastic Figurines is a vital story relevant for any family forced to deal with grief, disability, hardship or heartbreak – which means just about every family, really. Greenhill finds great insight in the mundane practicalities of suffering and tragedy."

Exeunt
Click to reveal more
Cast Members: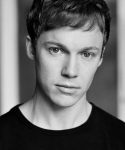 Jamie Samuel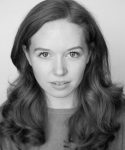 Vanessa Schofield
Creative Team:
Director: Adam Quayle Designer: Katie Scott
Associate Producer: Amy Fisher Lighting / Production Manager: Richard Owen
Composer: Chris Hope Sound: Chris James
Casting: Peter Hunt Stage Manager: Rhodora Taft

Photo Gallery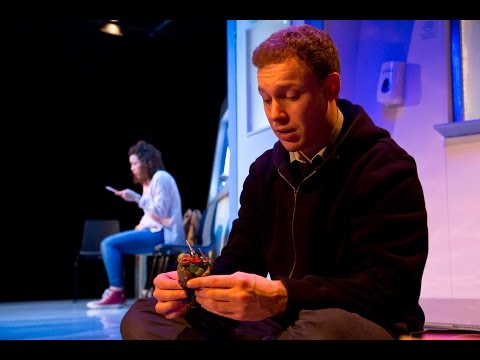 Video Gallery